Mobile Entertainment on a roll!
Minnesota's Segway Tour season runs from March through November, so we are open now!
Be transported back in time on one of our 100+ Segways from our storefront location in St. Anthony Main! Join us on a Magical History Tour™ where you can enjoy the rich history of the Riverfront area from 10,000 BC to the present as you glide effortlessly along. "Hop on Your Scooter, See the Sights," says Time Magazine, June 2004 issue. Read what Time Magazine has to say about us in our news section.

Looking for a great gift idea? Why not get a Segway Magical History Tour gift certificate for that special someone!

Beginning again in June 2017 is our Insider Tour - get a Minneapolis Insider's perspective as our expert guides fill you in on 15 little-known facts about downtown, all from the platform of a Segway. Beginning at the convention center, you'll take in our great park system, see the theater district, experience the beauty of the falls & come back along Nicollet Mall. This tour is offered for a limited time - call to reserve your spot today!

Also continuing in 2017 is the St. Paul Magical History Tour of Cathedral Hill! Starting from Grand Avenue, the tour will take you through St. Paul as you have never experienced it before. As we glide on new Gen2 Segways, we will see sites such as the James J. Hill House, Summit Lookout Park, houses of F. Scott Fitzgerald, St. Paul Cathedral, State Capitol, and old hangout spots of some notorious St. Paul Gangsters!

New for 2016 is the St. Paul Lowertown tour St. Paul Magical History Tour of Lowertown!

Launched in 2011, our year-round Real Ghost Tours walking tour at St. Anthony Main, on the Minneapolis riverfront - a combination of history & paranormal experience. Check out the Real Ghost Tours website for more information.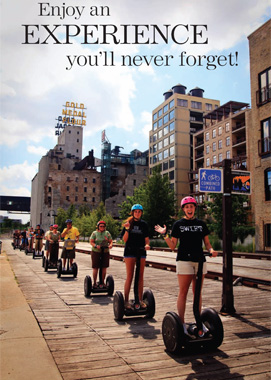 Travel back in time on a Segway Tour. Take a Magical History Tour™ of the Minneapolis Riverfront.
Our tour office is located at 125 Main St SE.



Give someone you love a Fun and Unique gift. We sell Gift Certificates all year long. With no expiration date, your friends and family can enjoy the tour anytime between late March – November 15.
Looking for an eye-catcher at your next event? Rent a Segway from us for cooperate events, conventions, private parties and wedding events!
Call us for pricing and availability at:
952-888-9200